Jacksonville's Best Human Hamster Ball Rentals in Jacksonville at Backyard Carnival Inc.
A Human Hamster Ball Rental in Jacksonville gets your party rolling!
Let our Human Hamster Ball Rental keep your party or event climbing to new hieghts!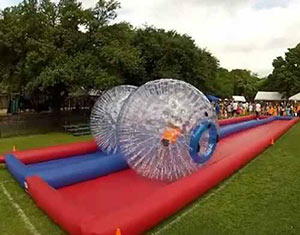 Human Hamster Ball Rental
in Jacksonville Florida.
What is a Human Hamster Ball?
The Human Hamster Balls are large 9 ft inflatable balls. You can either climb in and run like a hamster or you can be harnessed in and roll down the coarse. Human Hamster Balls allow you to run, walk, or roll while totally enclosed inside.
Human Hamster Balls are ideal for:
Birthday parties in Jacksonville
school carnivals in Jacksonville
corporate events in Jacksonville
fundraisers in Jacksonville
festivals in Jacksonville
Jacksonville based bachelor and bachelorette parties
Human Hamster Ball Rental in Jacksonville Florida!
Additional informantion: *Children must be at least 7 years old and at least 4 ft tall. *There must be a large area to operate the Body Zorbs or Human Hamster Balls. * A power source is needed to inflate the balls. One trained operator will run the session and make sure everyone is cooled down in Jacksonville's Summer Sun.


You can be next! Call us today for a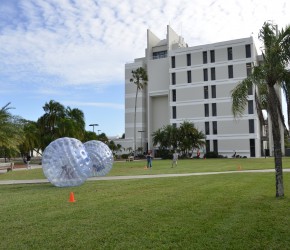 Zorb Ball Rental
in Jacksonville
Free Human Hamster Ball Rental quotation in
Jacksonville Florida at904-992-0056